The corporate divisions of the Werhahn KG
Aggregates

Manufacturing hard stone products, aggregates for asphalt mixtures and ready-mix concrete, the Aggregates business unit builds infrastructure and creates the foundation for mobility.
Zwilling Kitchenware
Modern lifestyle and a traditional brand – the product range once began with cutlery and now includes products for the whole spectrum of superior kitchen, food and table culture.
abcfinance
With leasing and factoring solutions, the business unit provides customized bank-independent financial services for medium-sized businesses.
Slate
The Slate business unit develops and produces slate products for exclusive environments. The product range includes a wide assortment of types of cladding for roofs and walls, and supplies building stones for the interior, as well as for gardening and landscaping.
Zwilling Beauty Group
All for beauty: tweezers, manicure and pedicure tools, cosmetic instruments, as well as products for manicure and pedicure – under the brands ZWILLING, Tweezerman and allessandro, the business unit covers the premium segment.
Bank11
The youngest business unit of the Werhahn group is a successful bank for automobile financing, independent from manufactures and catering for automobile dealers as well as for private customers.
Jaguar/Tondeo Professional Hairdressing Equipment
Worldwide, the hairdressing trade relies on the quality of the brand products by Jaguar/Tondeo.
Facts
A corporate group with a diverse array of activities
Werhahn is currently managed by representatives from the 5th and 6th generation, as well as executives from outside the family. In 2017, the Werhahn Group with its three corporate divisions Building Materials, Consumer Goods and Financial Services and its ca. 9900 employees generated a turnover of around 3,4 billion Euro worldwide.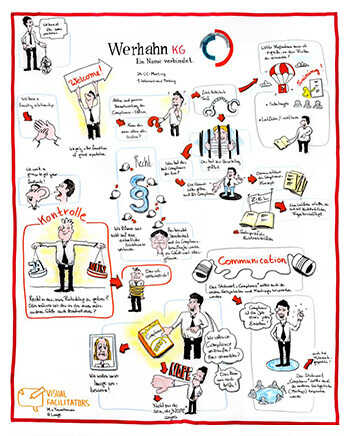 News from the Werhahn Group
First International Compliance Meeting
Compliance Management, introduced in 2009, has been continuously expanded and optimized by the Werhahn Group. From the code of conduct to e-learning tools, special guidelines, and the helpline in the respective national languages: An audit performed by experts has now confirmed an outstanding culture of compliance and a system that is adequate to the company size. During the first International Compliance Meeting in November 2016, Werhahn Group's compliance officers from all business units and regions worldwide came together and set the course for the future.
Career
Werhahn as employer
As a family-run business, Werhahn places great emphasis on respectful treatment, mutual consideration and understanding. It is equally important to support the reconciliation of family and working life and the protection of our employees' health and vitality.
Werhahn as employer